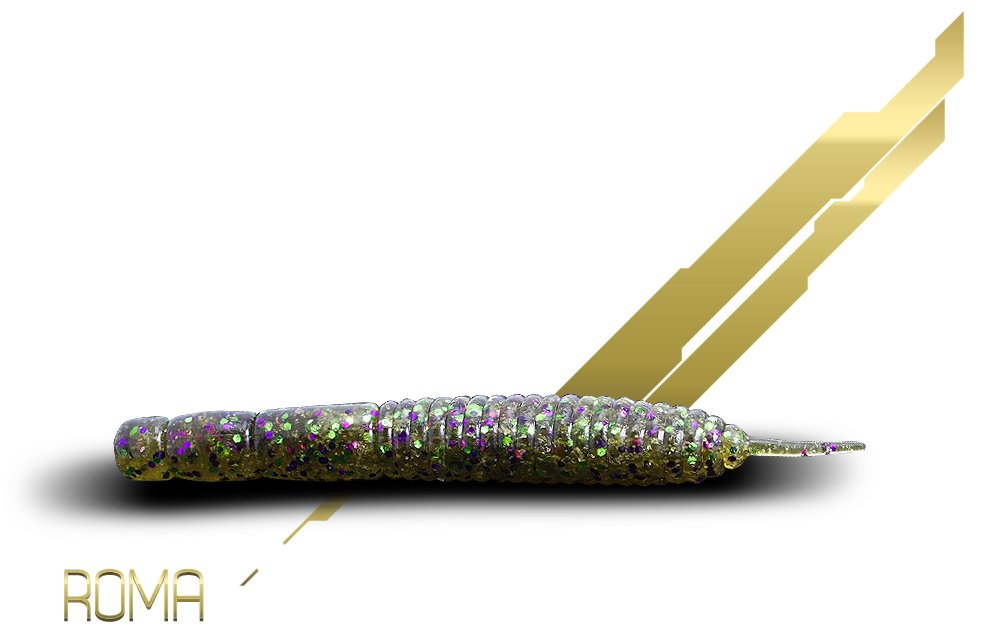 Delivering an action that needs to be seen to believe: Legio Aurea's Roma delivers extreme "Stinger Tail" micro shimmering action, even when at rest. The Legio Aurea Roma is a "hybrid" bait, and can be used as a worm, on a jig, or as a jerkbait. The possibilities are endless. The Roma's rear weighted design makes this bait incredibly easy to skip far under standing structure such as docks and timber, and easily back slides into the tightest spaces. Truly a precision weapon, the Legio Aurea Roma casts like a cruise missile, even when unweighted, and it's special blend of multi density, salt and scent infused plastic makes this an elite Bass fisherman's first choice in almost any situation. Made in LegioAureaTM with our special polymer.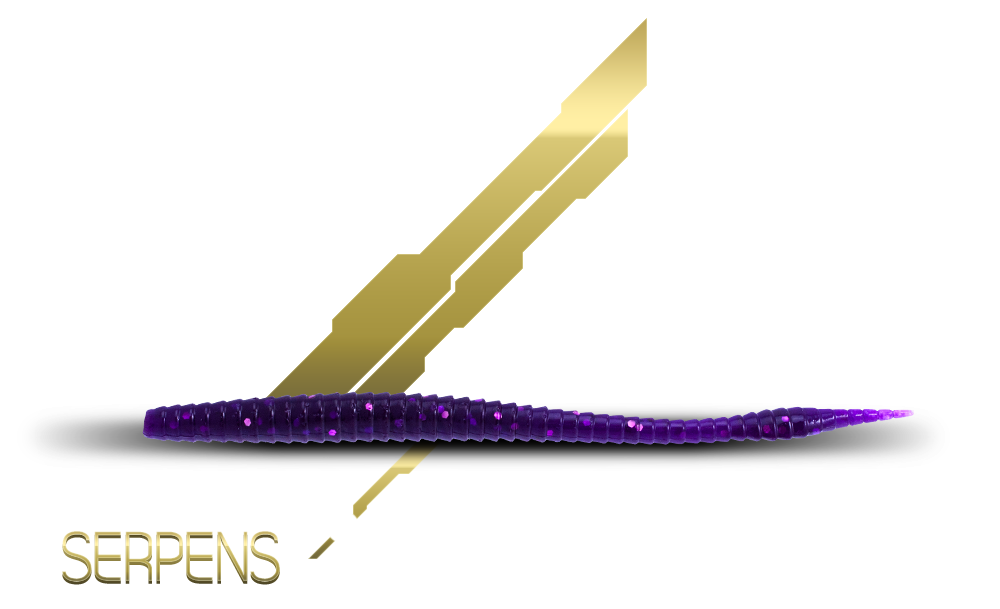 Silent but deadly: A surgical strike finesse weapon. The Legio Aurea is the ultimate finesse lure: Engineered from a unique polymer and enriched with a special mix of salt and scent, the Serpens compact shape and slim profile are designed to give extreme action with the slightest movement imparted by the angler. It is this action, coupled with its buoyant tail that makes Serpens a supreme drop shot or shakey head worm.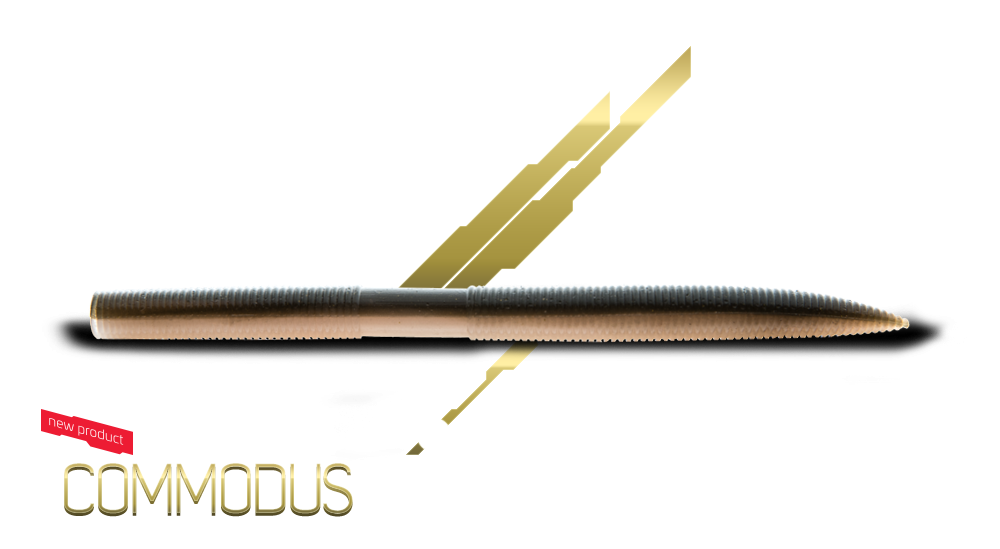 LegioAurea, con il nuovo Commodus, ha voluto dare una nuova interpretazione di senko lure, una esca classica per bassfishing. La peculiarità di quest'esca ed una discesa lenta, quasi sospesa, quando la si utilizza weightless, abbinata ad ami del 3/0 - 4/0 a filo sottile. L'affondamento non è semplicemente lento, ma perfettamente ORIZZONTALE in modo da simulare al meglio l'assetto reale di un vero minnow nei vari strati d'acqua. Il Commodus LegioAurea è prodotto con materiale Legio MTP (Multi Texture Plastic) potenziato con sale in bassa percentuale e scent di gambero micronizzato in alta percentuale (shrimp scent iniected). La densità di sale bassa (5%) e una grande quantità di scent, riescono a dare all'esca oltre ad un tempo utile per la ferrata decisamente alto, una elasticità straordinaria ed un resistenza notevole, mantenendo alta la morbidezza: il Commodus, anche dopo ore di utilizzo si può persino annodare su se stesso. Anche innescato a wacky con una jighead, il Commodus LegioAurea, produce contrazioni ''life like'' che sono del tutto atipiche.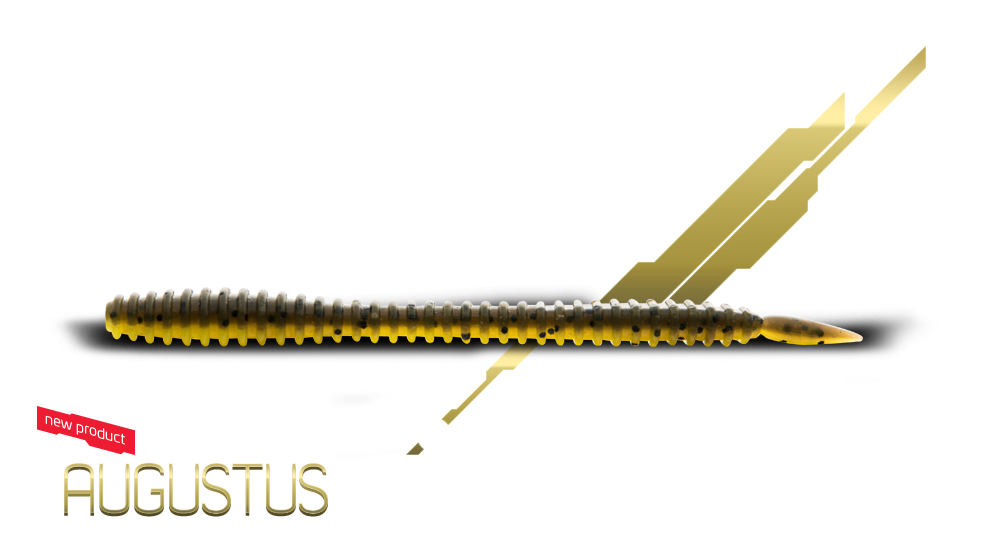 L'Augustus LegioAurea rappresenta una novità assoluta nel mondo delle esche da competizione da finesse per bassfishing. Il baricentro di questo ringed worm è spostato in avanti gli consente un assetto di inclinazione perfetta a 45° tipica di una preda in fase di nutrizione, momento in cui è più vulnerabile per il bass. Altra caratteristica atipica è un corpo disegnato con una serie irregolare di flaps capaci di intrappolare l'aria durante il lancio e di produrre molte bolle una volta che l'esca è in assetto di pesca in acqua, risultando molto vivo e realistico agli occhi del predatore. Per finire il corpo termina con una MICRO TAIL conica, dimostratasi già letale nella softbait Roma, che vibra al minimo movimento. L'Augustus LegioAurea è prodotto con materiale Legio MTP (Multi Texture Plastic) potenziato con sale in bassa percentuale e scent di gambero micronizzato in alta percentuale (shrimp scent iniected). I colori rappresentano un mix di soluzioni naturali e laminate, per ogni condizione di luce e grado di trasparenza acqua.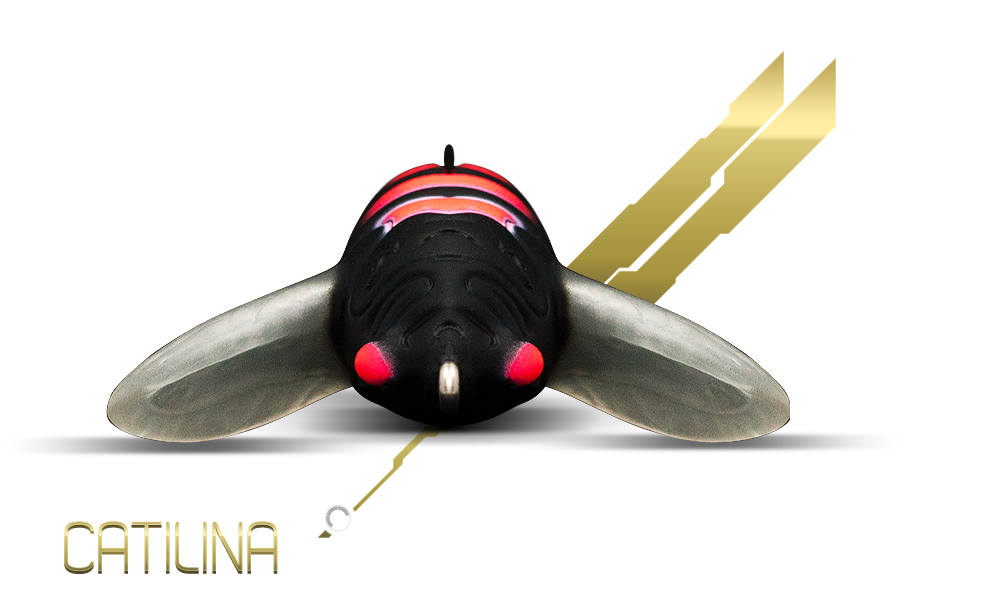 The Legio Aurea Catilina is a hybrid topwater that offers an extraordinary level of versatility. The idea was to create a compact crawler that would have been effective in heavy cover and in very thick vegetation. The Catilina has an hollow soft plastic body, rigged with a chemically sharpended heavy-duty hook with extraordinary penetration capabilities. The body is very soft and built with a fast water discharge system that allows the hook setting to be perfect in every condition. Built with the best materials and assembled by hand, piece by piece. Made in Legio Aurea.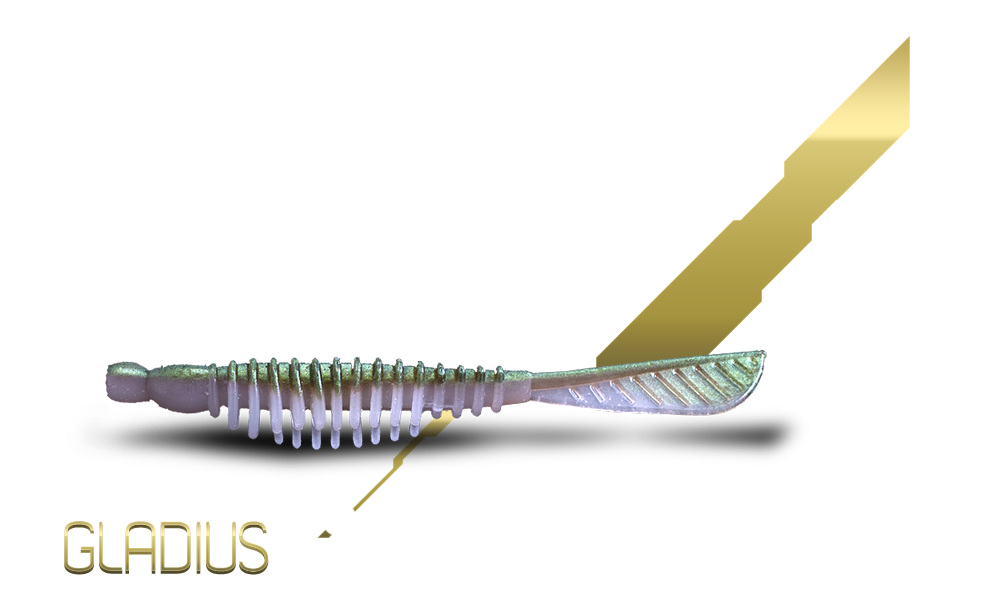 Legio Aurea's Gladius is an hybrid soft bait with a letal attitude. Incredibly versatile, it sports a flange on its tail for increased action. The Gladius can be flipped or pitched, Texas-rigged, Drop Shop, Carolina-rigged. Swim it weightless with thin fluorocarbon line or on a little size weighted hook. No matter how you fish it, this lure produces huge result making little air bubbles. Infused and powered by exclusive LegioAureaTm micronized organic crawfish scent, incredibly attractive to fish and able to mask human and plastic scent. Made in LegioAureaTm with our special, hi tech polymer project (LEGIO M.T.P. MULTI TEXTURE PLASTIC).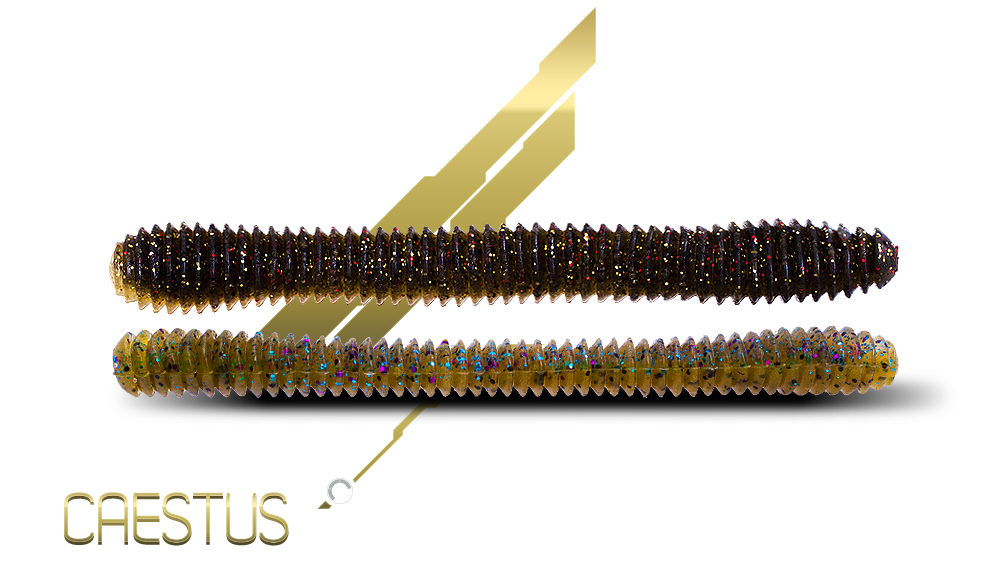 Legio AureaTM Caestus features a tapered ringed body which releases attractive air bubbles for a super natural action. Its ridges are able to conceal the hook for easier hook-setting. The Caestus can be Texas, Wacky and Carolina rigged or fished weightless as a pure jerkbait. Legio AureaTM Caestus works great for heavily pressured waters, clear waters or cold fronts. Made in Legio AureaTM with our special, hi-tech polymer project (LEGIO M.T.P. MULTI TEXTURE PLASTIC). Powered by exclusive LegioAurea micronized crawfish scent.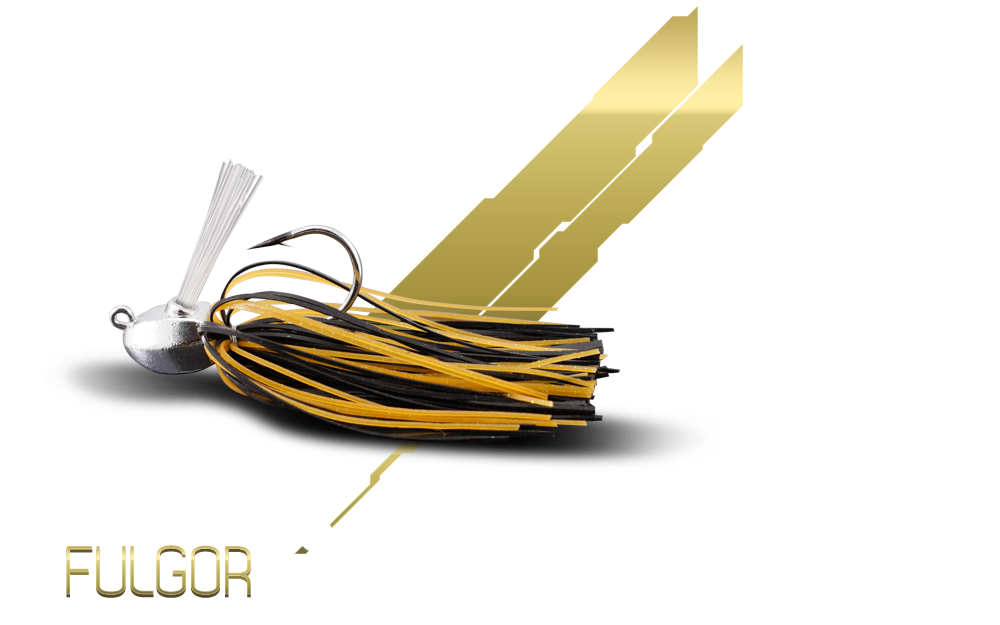 In Latin, Fulgor means "brilliance" and brilliant this weapon is. The Legio Aurea engineered Fulgor jig is designed with exclusive features such as the multi-faceted, chromed head that wobbles and flashes on the fall or swim. With its special hook eye positioning for optimal hookset leverage and the fluorocarbon INVISIBLEDEFENSE brush guard, this is the ultimate swim jig weapon designed to come through heavy cover while giving Bass a wobbling, flashing presentation that they have never before seen. Slow crawl the Fulgor jig through cover or over a hard bottom and be prepared as this tactical strike weapon finds its target.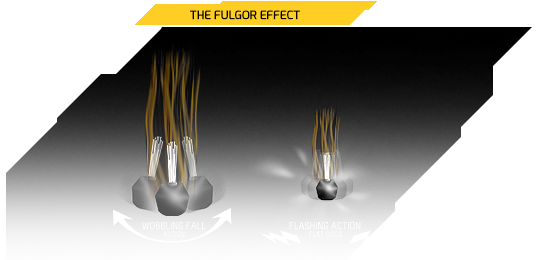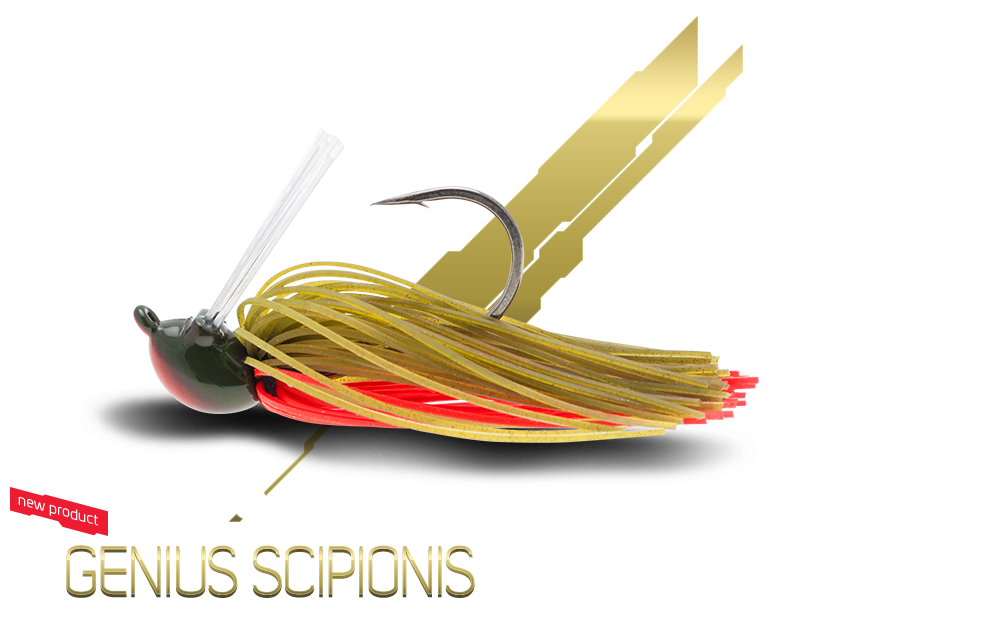 The Legio Aurea Genius Scipionis bass fishing jig was designed to be the perfect pitching and flipping weapon. The unique "U" shape of its guard avoids lateral snags, offering the best defence in the cover. Custom handtied skirt, custom designed top quality chemically sharpened hook.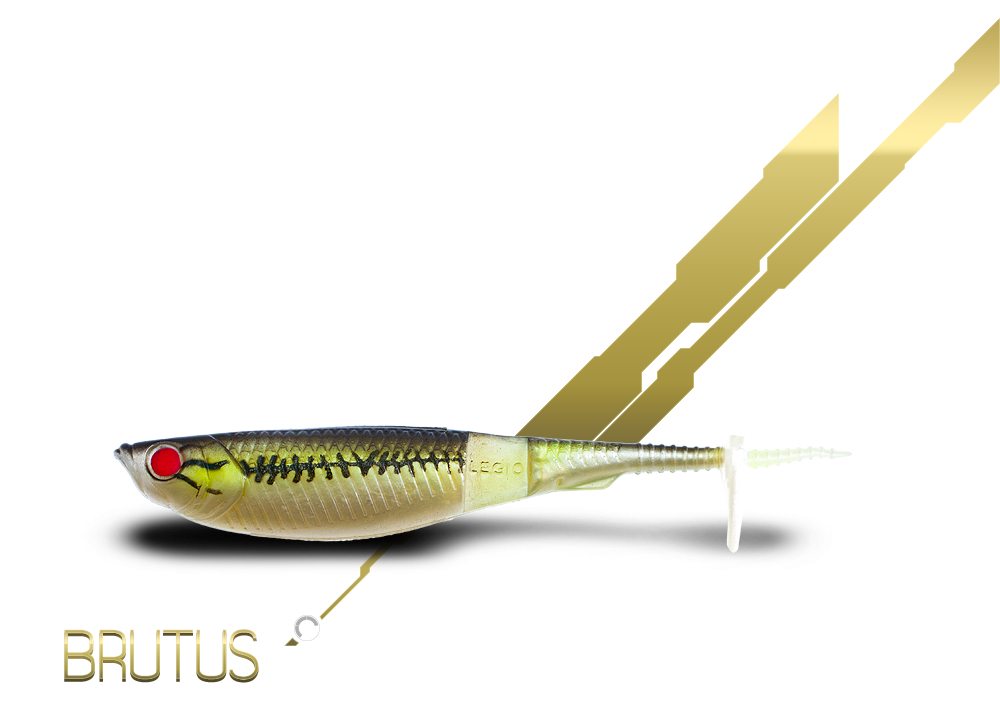 The LegioAureaTM BRUTUS is the ultimate T-Tail swimbait. The extremely advanced design of the lure, mimics the swimming motion of a little fleeing prey, when retrieved. The original "long joint" provides a tremendous, never seen, "boomerang action" in the water, allowing it to dart and glide like no other bait in its class. Raised 3D details and textured scale patterns add realism and authenticity.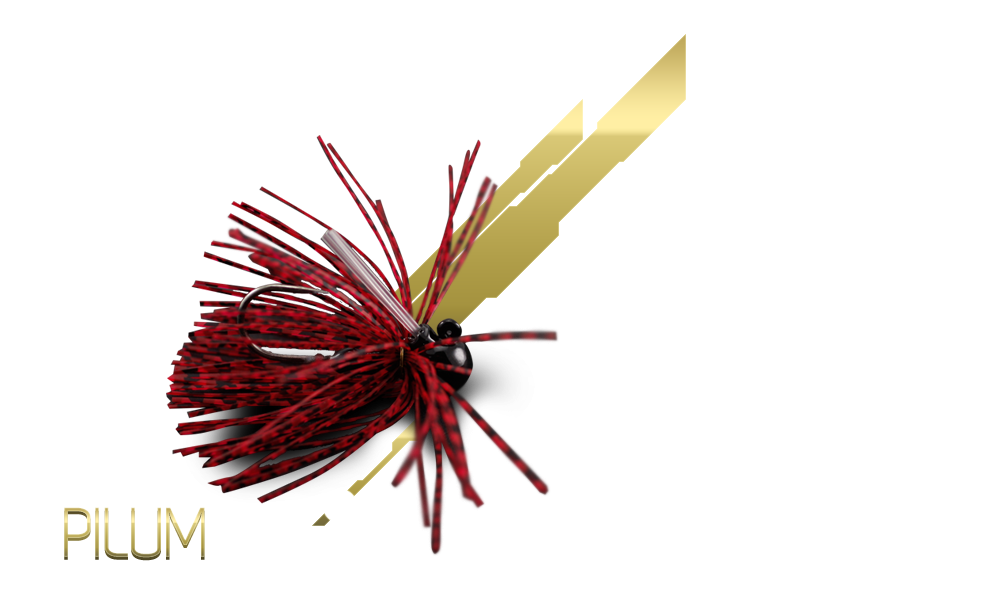 The Pilum jig comes perfectly balanced and in stealth mode, featuring the INVISIBLEDEFENCE brush guard and super sharp hook. The Pilum jigs subtle vibrations and increased profile to weight from the Sphaera wide spreading skirt and its ability to slide through cover with its ORB head make Pilum the extreme finesse weapon. Pressured or ultra clear water Small Mouth and Spotted Bass are especially vulnerable to this pinpoint weapon.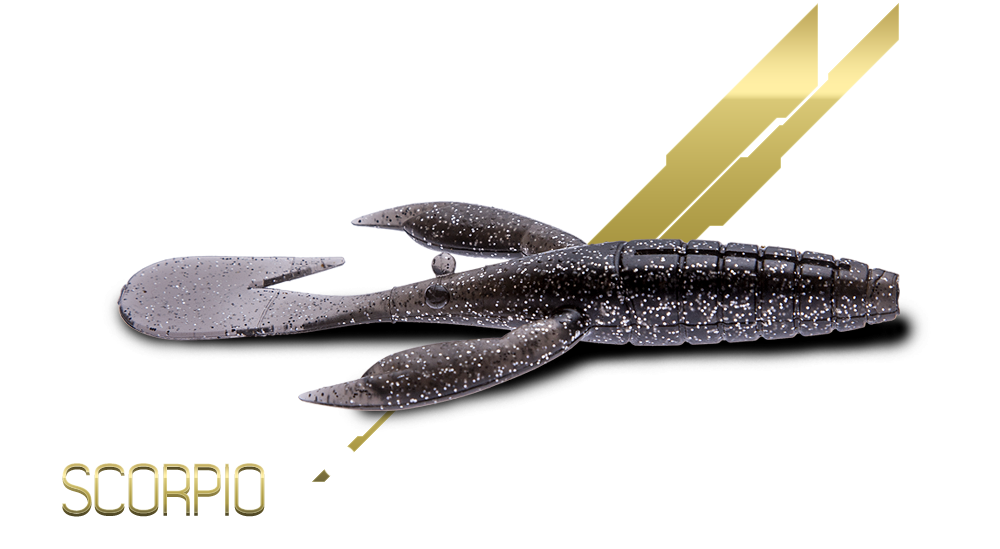 New 2015! The Legio Aurea Fishing Scorpio Craw is a high performance flipping and pitching super-compact craw. Designed with a central ultra vibration tail and two lateral claws that are highly mobile and flexible. The Scorpio has a reverse hook pocket for a perfect weedless efficience. Its action is studied for a very effective fishing inside grass and covers. Produced with Legio MTP plastic and injected with crawfish scent.
Size 4.25". Made in LegioAurea.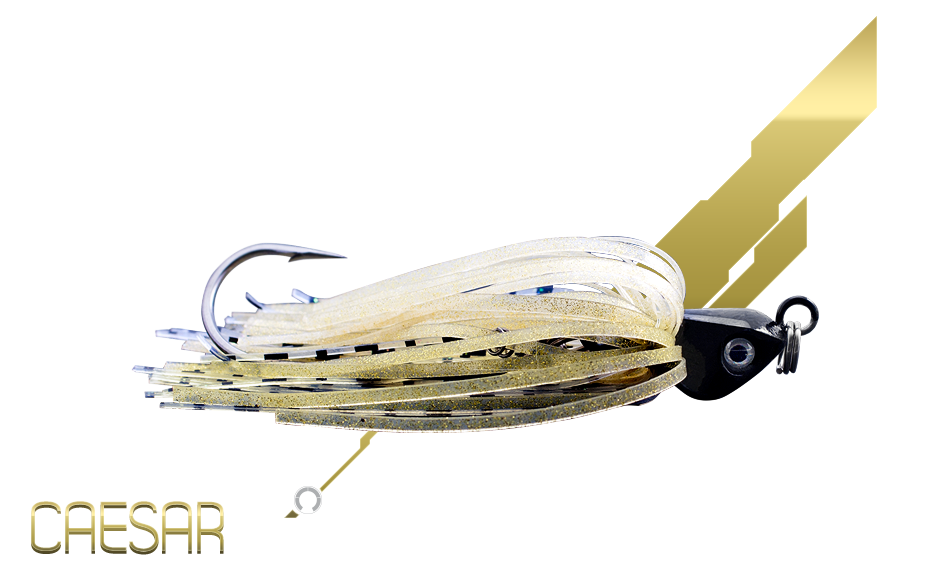 The LegioAurea CAESAR JIG is a revolutionary, innovative, jointed swim jig offering perfect swimming balance and alignment (CONSTANS ACTION TECH.) . Designed for use with swimbaits, craws and grubs, it delivers a deadly presentation with its custom chemically sharpened super strong hook with an exclusive "inox tied" silicone skirt, and screw-in keeper. MULTI PURPOSE WEEDLESS JIG: The solid construction ensures rock solid hook sets and fits every trailer style perfectly. Use it and retrieve it around shallow cover, flip or pitch it directly at a target or probe weed beds, the Caesar Jig can do it all because it is Made in LegioAurea.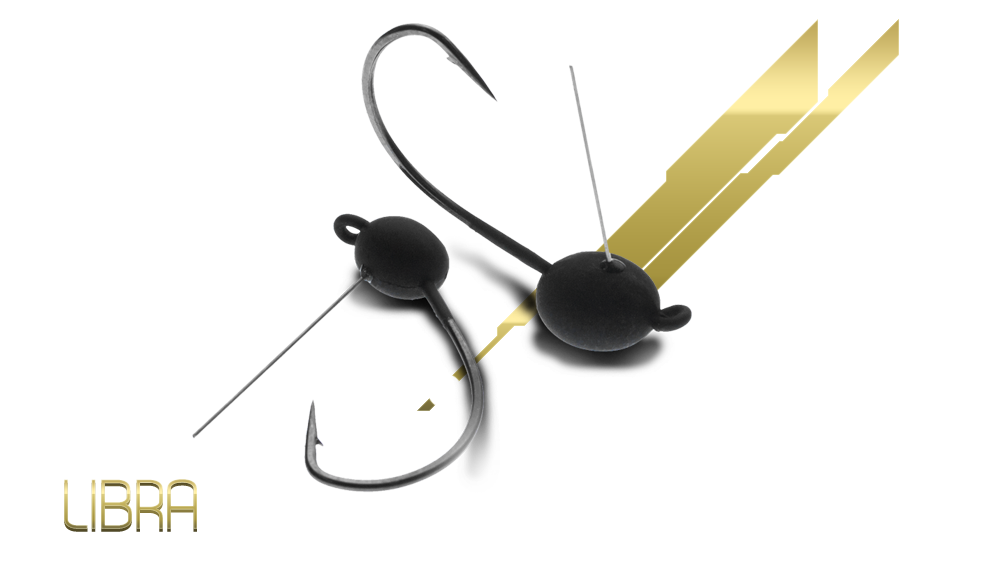 Libra: maximize your wacky action. Developed by LegioAurea specifically for finesse tecniques. The eye is positioned at a perfect angle for the best hook setting, the weedguard helps to totally prevent snags. Powered by Mustad Ultra Point top level chemically sharpened hook

Available sizes: 1/16oz #2 hook, 1/8oz #1 hook, 3/16oz #1/0 hook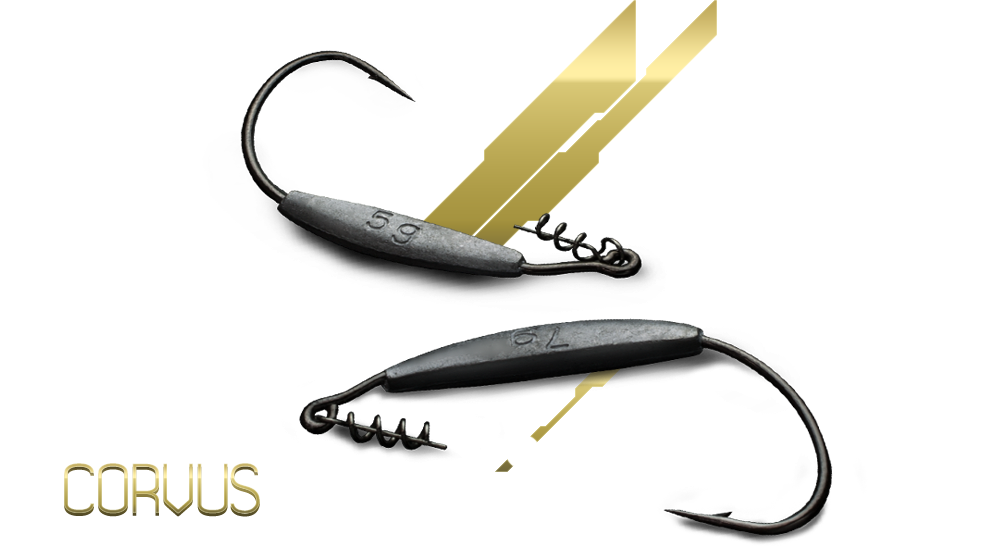 The Legio Corvus is a tournament grade swimbait hook. It features a weight mark spot for easily selecting the right weight, a center pin lure keeper that allows a perfect rig in the centre of the lure and a segmented weight, flat on top that gives to your lure a superb rolling action. The hook is an extra wide gap: the best curve to rig soft swimbaits, shad, grubs, plastic frogs.

Available sizes: 1/8oz #2/0 hook, 3/16oz #2/0 hook, 3/16oz #3/0 hook, 1/4oz #3/0 hook, 3/16oz #4/0 hook, 1/4oz #4/0 hook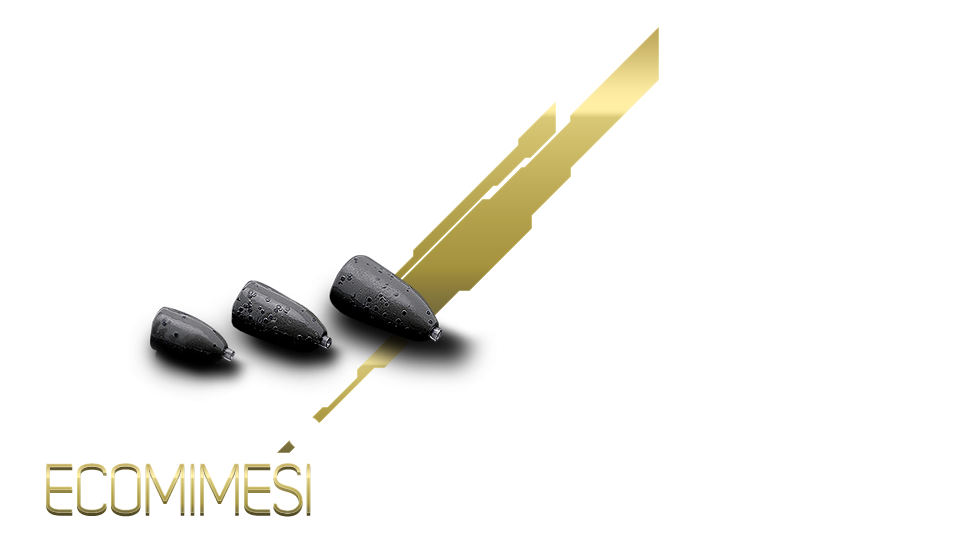 The best way to understand the quality of a brand, is the ideas behind their accessories. Legio is a brand that ignores the concept of compromise. The Ecomimesi tungsten is of the higher and purest level. The shape is not made out of tungsten resin in a mould, it's "sculpted". Compact design for a perfect fit with every lure, even the thinnest. X-Hard: Ecomimesi is extremely hard, and won't deform. This hardness allows a very high sensitivity on the retrieve. Natural appeal: we developed the external coating with the goal to be able to mimetize the weight in clear and dark waters. Available weights: 1/16oz, 1/8oz, 3/16oz, 1/2oz, 1oz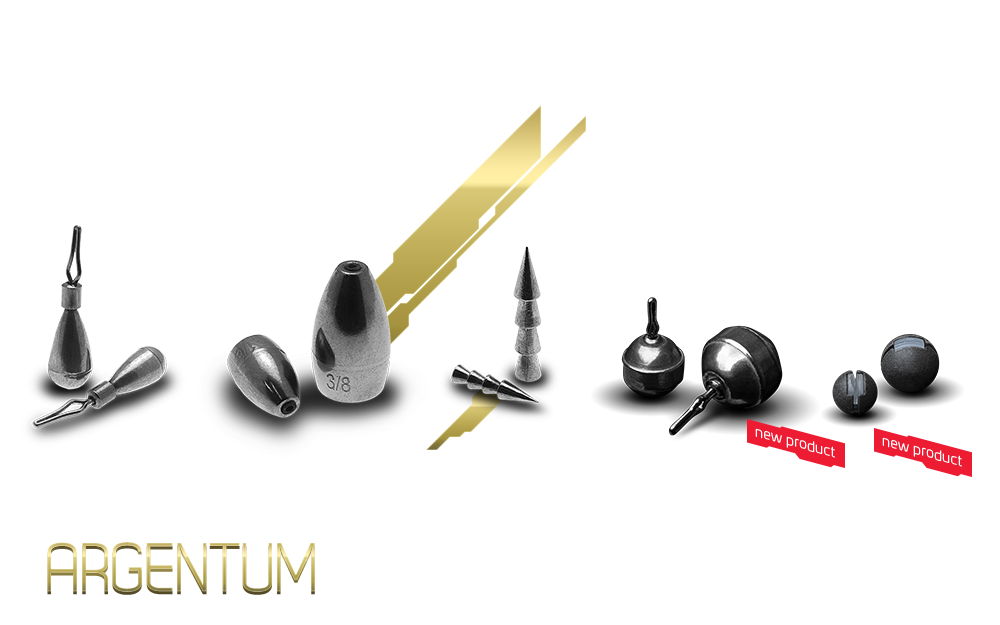 The best way to understand the quality of a brand, is the ideas behind their accessories. Legio is a brand that ignores the concept of compromise. Argentum series features tournament grade ultra polished tungsten sinkers. The models allow to approach different techniques and situations.

Available weights
Bullet: 1/16oz, 3/32oz, 1/8oz, 3/16oz, 1/4oz, 3/8oz
Drop Shot: 1/16oz, 3/32oz
Insert: 1/48oz, 3/64oz, 1/16oz
Glomus: 1/8oz, 3/16oz, 1/4oz
Globus: 1.0gr, 1.6gr, 2.2gr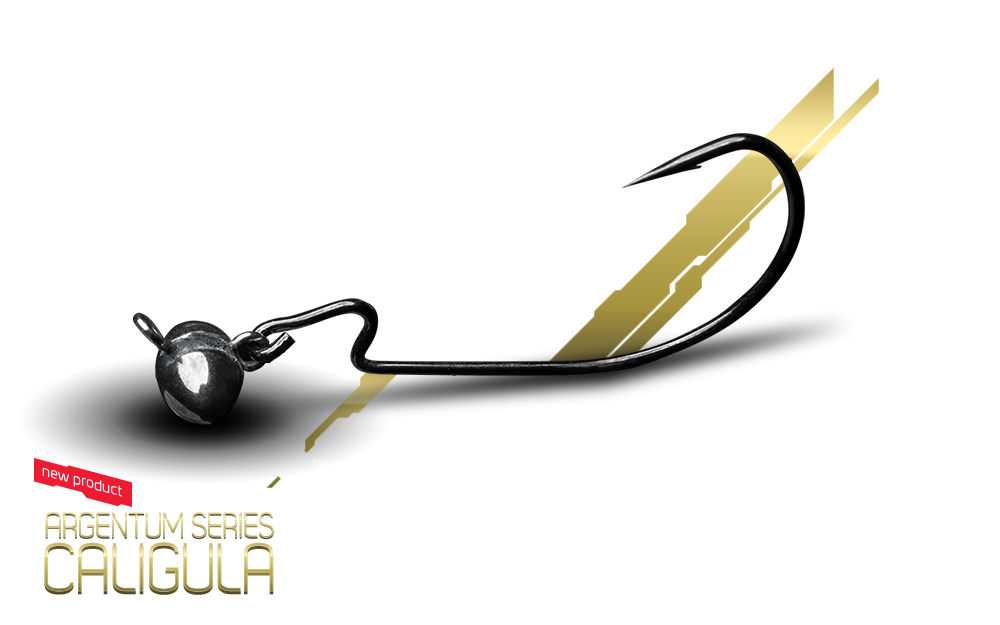 The Legio Aurea Caligula Tungsten swing football jighead provides the hook with a tremendous free swinging action that adds additional life and vibration to your lure. The tungsten material of the head provides a host of benefits as well, including a smaller profile and better sensitivity. The Legio Aurea Caligula Jighead offers a new level of action. It's equipped with a strong chemically sharpened hook.
Available Size: #3/0 - 1/4oz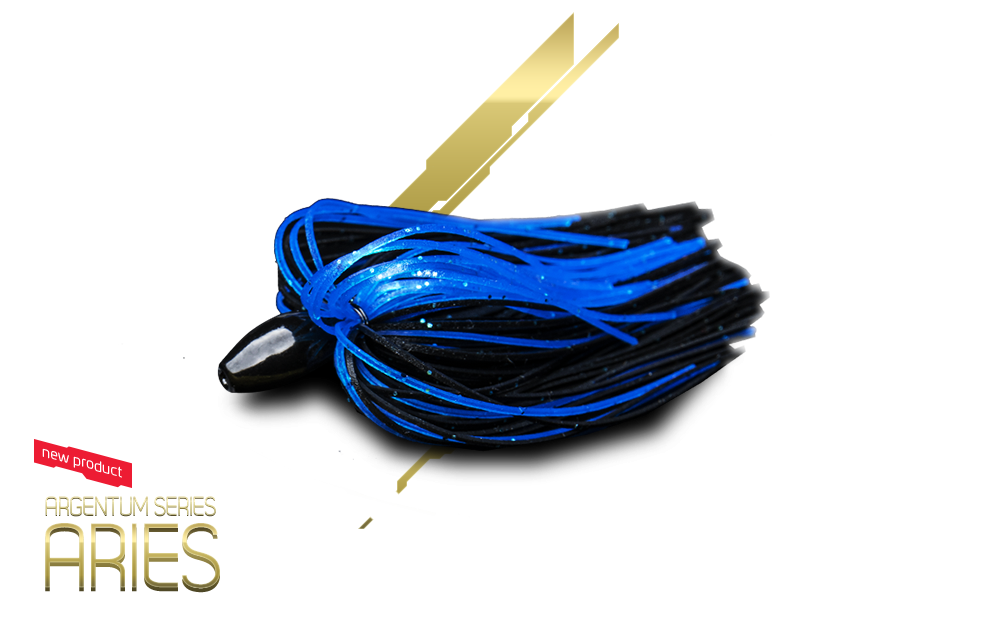 The Legio Aurea Aries skirted weights are built to penetrate through thick cover and put your softbaits in front of the bass. Made from high-grade 97% tungsten, the Aries jigs have a compact profile that is smaller than lead rigs of the same weight due to the dense nature of tungsten.This smaller profile makes it easier for the Aries weights to slide in and out of heavy cover. Completed with an hi quality silicone skirt for a better vibration in the water.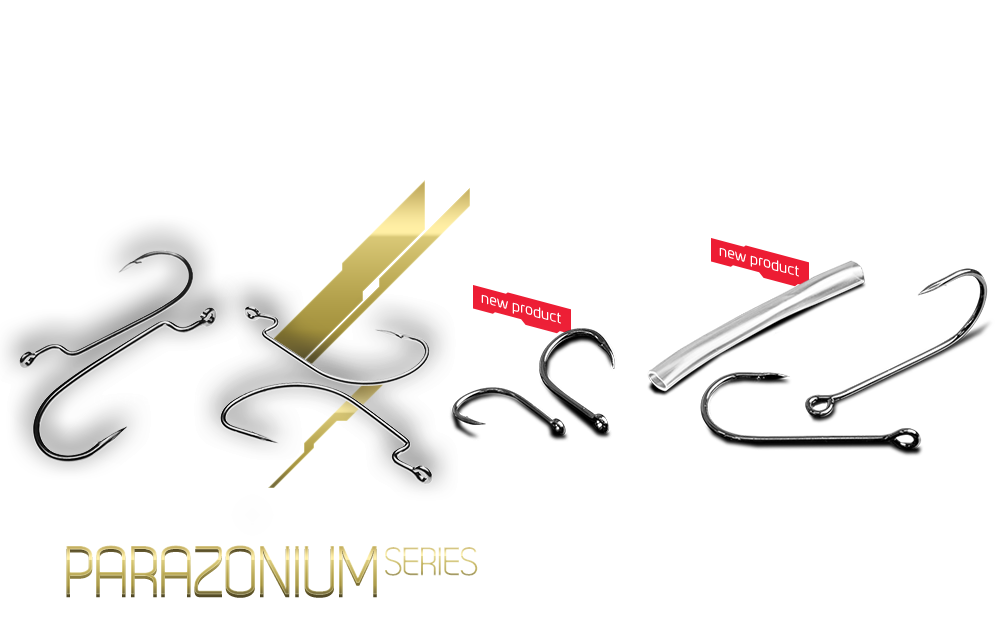 Parazonium Offset
The LegioAura Parozonium hook with its deep throat and dramatically elevated point, offers a perfect gap for extra hooking power. The 3D square point rides above the knot eye, providing a more positive and effective hook set from short and long distance. Ideal for weedless style rig. Available in two classic tournament styles: offset and wide gap CHEMICALLY SHARPENED 3D square point. EXTRA STRONG forged shank for every type of line. Black chrome finish against corrosion Hook point is perfectly angled with PAP Tech.
Parazonium Finesse
Legio Aurea Parazonium Finesse Hooks. Hooks for drop shot and wacky rig. Light but extremely strong, designed to be sucked up by the fish and not compromise the lure action by altering the weight, and at the same time to avoid breakages even using high test lines. Chemically Sharpened. Extra Strong wire. P.A.P. tech - perfectly angled point 6 pieces per pack
Parazonium Trailer
The Legio Aura Parazonium Trailer Hook is designed specifically to be rigged on spinnerbaits, buzzbaits, swimming jigs. The hook is strong enough to not being subjet to breakages even using high test lines. Chemically Sharpened. Extra Strong wire. P.A.P. tech - perfectly angled point 5 pieces per pack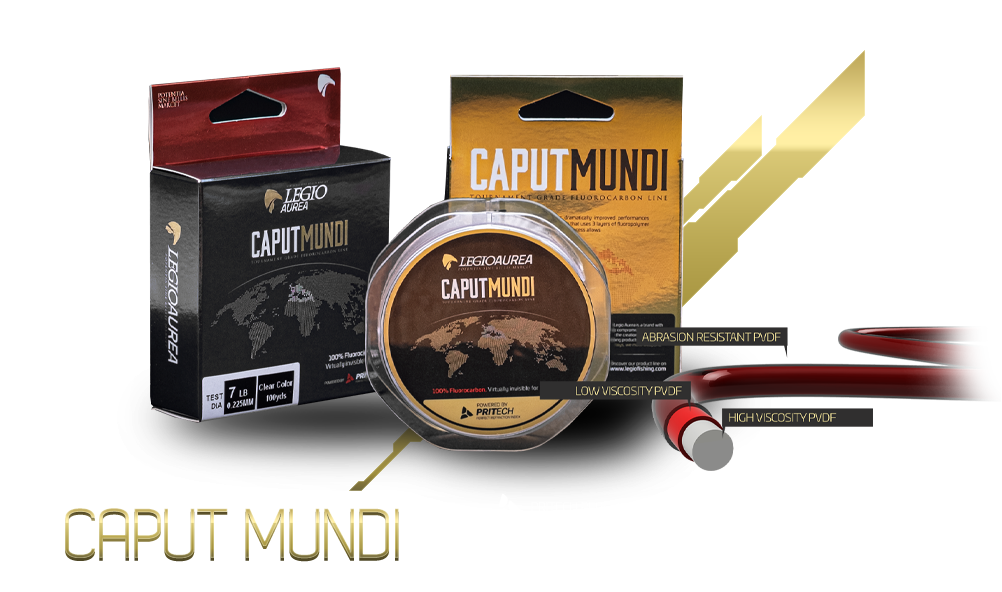 LEGIOAUREA CAPUT MUNDI, with 3M TECH. MATERIAL"VIRTUALLY INVISIBLE TOP PERFORMANCE FLUOROCARBON". Fluorocarbon da mulinello specifico per LURE FISHING / SPINNING da competizione, morbido con una resistenza lineare e al nodo altissime in relazione al diametro ed un livello elevato di scorrevolezza sulle guide. Trattamento superficiale che conferisce grandi distanze di lancio ed una non consueta capacità di adattamento a qualsiasi tipo di bobina e rapporto di recupero : è un fluoracarbon che non da mai vita a line twist fastidiosi. Non produce rumore su anelli e presenta un allungamento inconsistente, che agevola ferrate a distanza Grado di rifrazione molto simile a quello dell'acqua che si traduce in un mimetismo totale. Il peso specifico e le sue caratteristiche affondanti lo rendono perfetto per presentazioni weightless (senza peso) con esche leggerissime senza fastidiose curve di filo in superficie.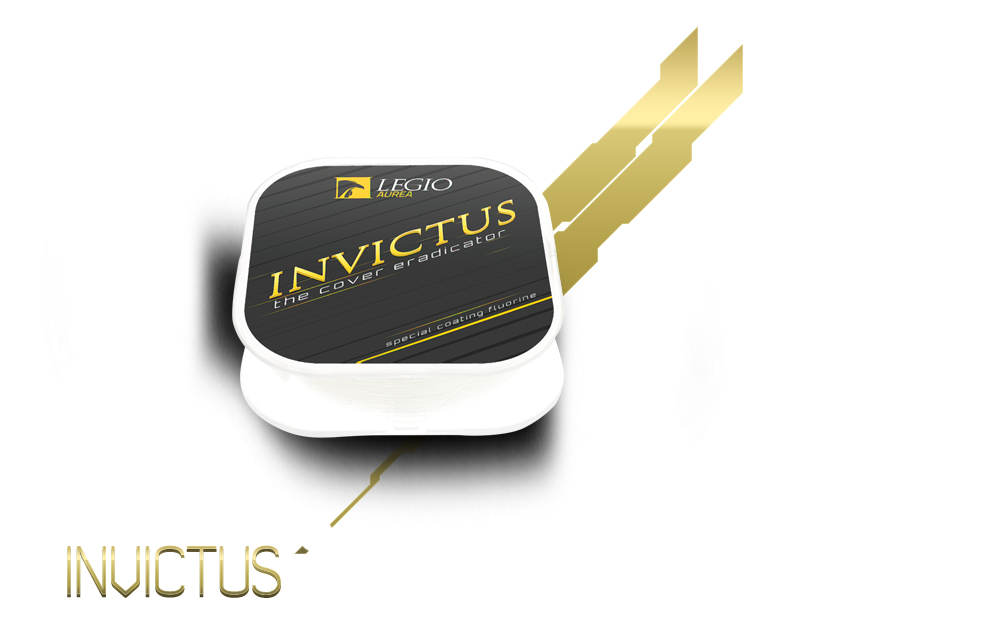 The new Legio Aurea Invictus is a lurefishing specific line that is made by an unique blend of a revolutionary coating and a fluorine structure. This peculiar coating makes the line incredibly resilient to abrasion and literally capable of extirpating the fish from the covers: the Invictus cuts the soft structures like weeds, and is able to carve, under pressure, even the hard ones like wood. This new generation line is designed for spinning and casting reels, has almost no memory and the refraction index of 1.41 makes it virtually invisible underwater. -unique blend, special coating fluorine -lurefishing specific line -cuts wood and every structure -inredible knot and abrasion resistance -uncommon sensitivity -refraction index 1.41